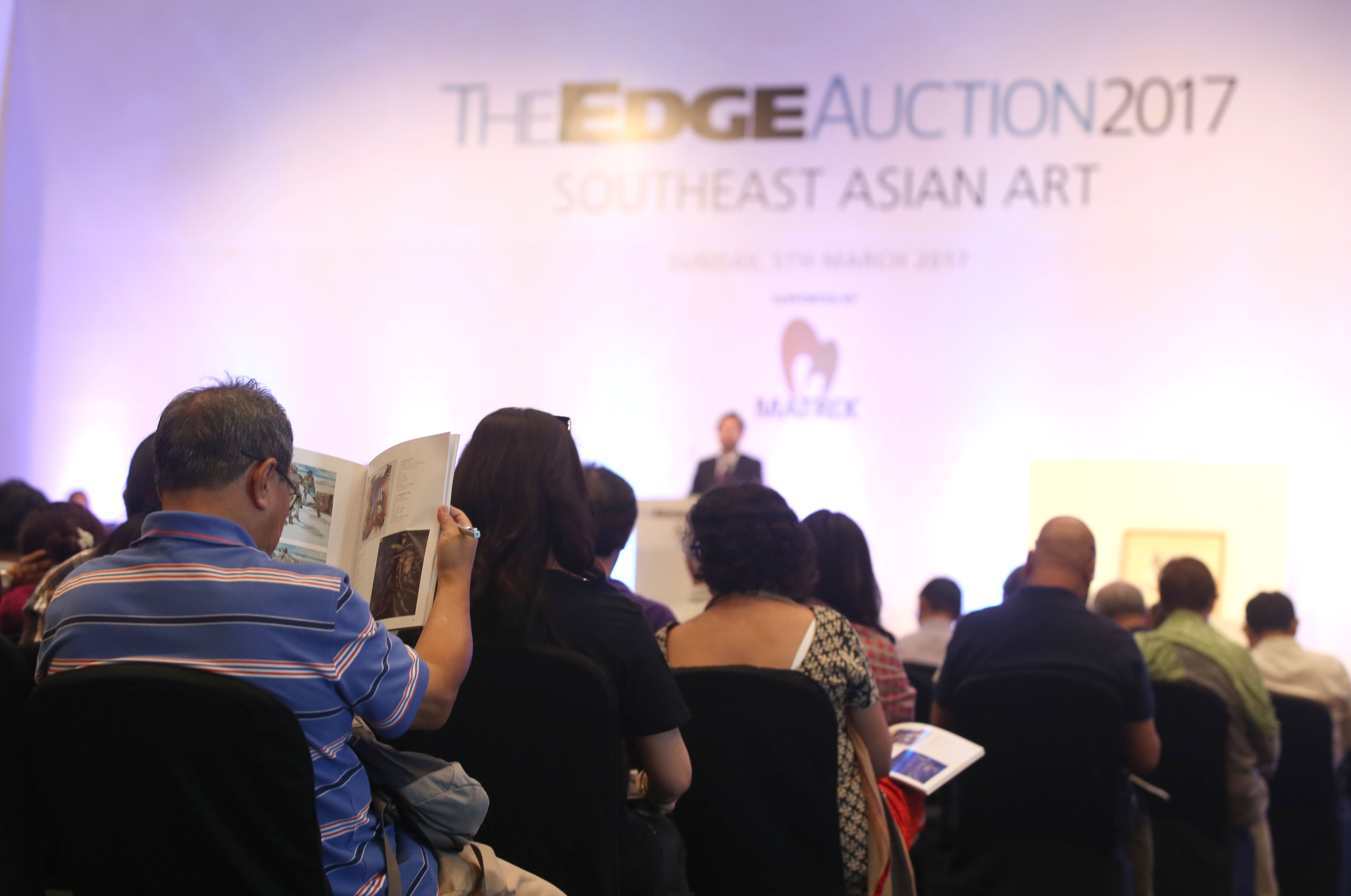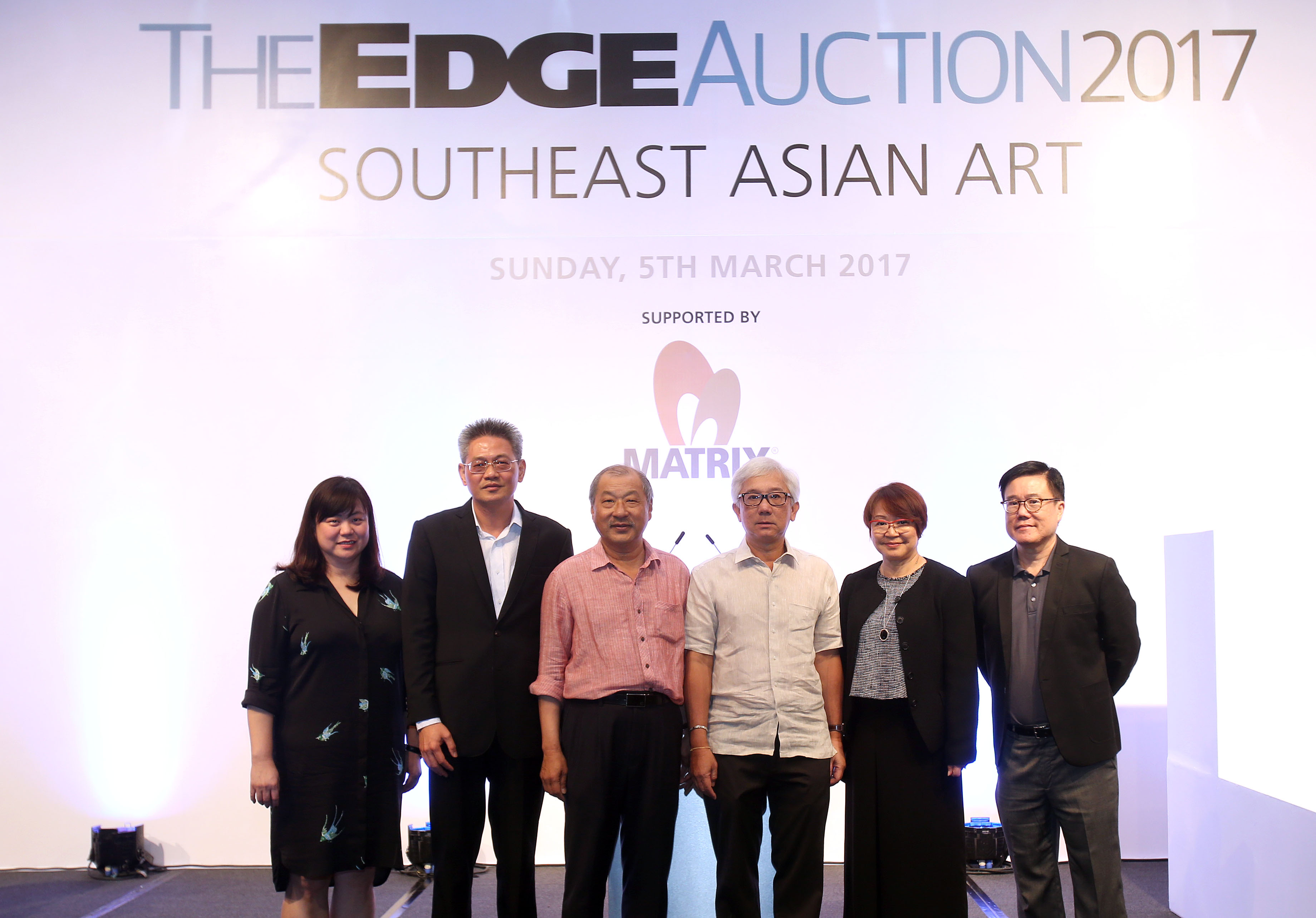 Attracting a full house, The Edge Auction 2017 at Hilton KL on March 5, offering Southeast Asian artworks, witnessed active participation by well-informed bidders who pushed total sales to a modest RM1.3 million. The latest auction indicates a maturing market minus the frenzied bidding of the early years by uninformed punters.
It's heartening to see that during this time of uncertainty, we are still able to sell about 60% of the artworks," The Edge Media Group CEO and publisher Ho Kay Tat said.
Supported by leading property development company Matrix Concepts Holdings Bhd, The Edge Auction 2017 was attended by about 200 art enthusiasts. It was organised by The Edge Galerie Sdn Bhd under The Edge Media Group.
"It is better than we had expected and proves that people still see opportunities to buy paintings they like and paintings that are good value for investment," added Ho.
Despite the big crowd, the atmosphere in the hotel ballroom was subdued initially, with many lots sold within the auction estimates. But the pace picked up halfway through and ended on a bright note with the sale of Latiff Mohidin's 2000 oil on canvas painting, Lahar III, for RM309,680 inclusive of the 10% buyer's premium.
Actively supporting the auction were Matrix Concepts senior executives led by group managing director Datuk Lee Tian Hock, deputy group managing director Ho Kong Soon, group sales and marketing head Lim Kok Yee, group sales and marketing deputy head Bryan Lee Thian Long, sales and marketing head Alex Lim Kee Lian, sales and marketing senior manager Deepamala Raghavan and digital marketing and creative manager Sharon Loh.
Also present at the event were Singapore High Commissioner Vanu Gopala Menon and wife Jayanthi Menon, as well as corporate leaders, including Lebar Daun chairman Datuk Noor Azman; Royal Selangor International Sdn Bhd director Datin Paduka Chen Mun Kuen, DTLM Design Group founding director and DrTanLM Architect principal Dr Tan Loke Mun and businessmen Ang Lay Leong from Singapore and Gooi Kok Wah from Penang.
Among the art collectors and enthusiasts present were legal consultant Pakhruddin Sulaiman,educationist Prof Dr Krishna Gopal Rampal, business owner Mohd Suhaimi Ahmad and his wife, Sarah Abdul Aziz, architect PK Ee and interior designer Raymond Lee as well as Dr Lai Hou Yee, Audrey Har, Kris Lee and Sophia Shung.
Said collector Kuldip Aasmundsen about the event: "The auction was well organised. The contemporary art section was exciting with high interest from bidders. It will be good to see more major contemporary works in the future."
The auction also attracted a number of art consultants and dealers like Fergana Art director Jaafar Ismail and manager Vincent Leong, G13 Gallery directors Kenny Teng and Wendy Chang, PinkGuy Malaysia Art & Frame director Winson Loh, WL Framing & Art Sdn Bhd director James Lee, A+ Works of Art director Joshua Lim and RogueArt director Rachel Ng as well as investors such as Rajahdurai Aruchadran, Gregory Lim, Damien Tan, Gerald Ng and Leonard Tee.
Results
The auction commenced at a slow pace,with most of the lots sold at low estimates.The pace picked up at Lot 31 — Yong Look Lam's River Scene (estimates RM8,000 to RM10,000) which was sold to a room bidder at the hammer price of RM14,378 inclusive of premium.
The sale gained further momentum from Lot 54 onwards. At Lot 63, Fauzan Omar's Luminosity Series (estimates RM7,000 to RM10,000) became a tussle between bidders from the floor and from absentee bids. The lot was sold to a bidder in the room for RM13,272 with premium.
At Lot 65, Anthonie Chong's Seated Nude Figure (estimates RM9,000 to RM15,000) attracted fierce competition across the salesroom and was finally sold to a bidder for RM27,650 with premium, setting an auction record for the artist. Another work by Chong entitled Morning (estimates RM14,000 to RM18,000) was sold for slightly over RM21,000, surpassing its higher estimate.
For Lot 68, Raduan Man's Manusia (estimates RM18,000 to RM20,000) was hotly contested between room and telephone bidders. The abstract painting, dated 2002, was sold to a room bidder for RM28,000.
In the Southeast Asian segment,Lot 88 — Hong Viet Dung's Summer Morning — performed exceptionally well, selling at RM40,000. The soothing landscape received bids from enthusiastic bidders, including those from overseas via the telephone. Leading Indonesian contemporary artist Heri Dono's An Astronaut with a Magical Bowl was sold to an online bidder for RM26,000.
Lot 90, Chong Siew Ying's Cattleya (estimates RM20,000 to RM25,000), attracted intense bidding from room and telephone bidders and eventually was sold for RM34,000. Kow Leong Kiang's Facescape of Bali 9 (estimates RM28,000 to RM35,000) was also actively contested and was sold to a room bidder for RM34,000.
Khoo Sui Hoe's The Human Condition dated 1973 (estimates RM20,000 to RM25,000) was another work pursued by bidders and was eventually sold at RM28,000.
The much-anticipated Lot 111, Patrick Ng's Nude Female batik circa 1960s (estimates RM28,000 to RM30,000), drew a lot of interest during the auction preview at The Edge Galerie. The museum-quality artwork was sold for RM42,000 after an intense battle between room and telephone bidders. It will be going to a private art museum.
Lot 115, Chia Yu Chian's Bukit Tinggi dated 1972 (estimates RM10,000 to RM15,000) also received attention from eager bidders and was sold at RM22,000, doubled its lower estimate.
Response
Post-auction sales included three watercolour paintings by Tan Choon Ghee, Tew Nai Tong's Landscape dated 1988, Wan Soon Kam's Cavenagh Bridge, Jalaini Abu Hassan's Alam Benda and Chong Ai Lei's Hair Storm II. All were sold to auction participants.
Based on the bidding trend at The Edge Auction 2017, the art market remains soft. A number of new buyers have shown interest in Malaysian art, proving that the market has developed to some degree. From the selection of artworks sold, it shows that buyers are more knowledgeable in selecting the types of artworks, whether for personal collection or investment purpose.
Distinguished collector Zain Azahari said: "It's not the usual crowd at the auction and generally, it was very dull and not very exciting. I didn't see the enthusiasm and the heat of the previous years."
Asked when the market will recover, he said: "I can't see it happening this year or even next year. It all depends on the overall economic condition."
The European Fine Art Foundation (TEFAF) Art Market Report 2017, prepared by Prof Rachel A J Pownall, who holds the TEFAF chair in art market at the School of Business Economics at Maastricht University,said: "The Asian auction market remained buoyant in 2016, despite auction sales down 1.6%, with the China market down 2.6%. Asia now accounts for a 40.5% share of world auction sales, up from a 31% share in 2015. China dominates the auction sales with almost a 90% share."