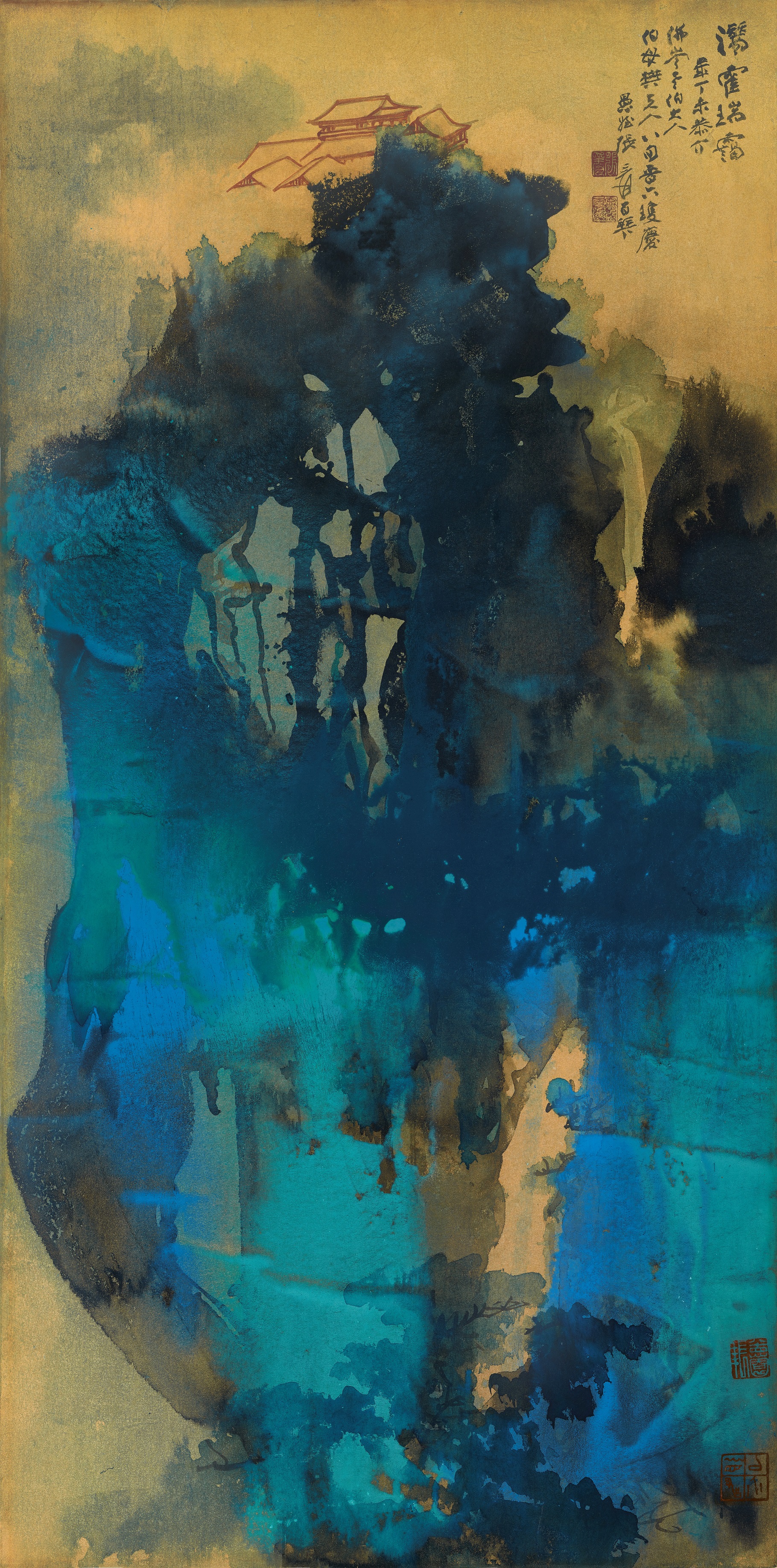 Zhang Daqian's splashed ink landscape leads Sotheby's HK sale
According to a press release by Sotheby's, C.K. Cheung, Sotheby's head of chinese paintings department said: "This spring, we are pleased to present significant works in considered thematic sections that reflect the department's meticulous sourcing approach. Not only do these groupings emphasise each work's intrinsic artistic value, they also put into context the artists' relationships and place in the wider art world, as well as his or her artistic orientation. Once kept in the hands of revered private collectors, many of these rare works boast impeccable provenance, and several are fresh to market."
Offering more than 300 lots in the Fine Chinese Paintings Spring Sale 2017 and estimated at approximately HK$160 million / US$20 million*, the sale features a number of specially-curated thematic sections, such as an array of paintings and calligraphy previously from the collection of Wu Hufan, along with works of Wu and his students, and the collection of celebrated Guangdong book collector Mo Boji. Further highlights include masterpieces by Zhang Daqian, many of which were gifts to his close friends, such as the splashed ink and colour landscape on gold paper for Tai Jingnong, a splashed ink lotus painting for Wu Hufan to celebrate his 70th birthday, and red lotuses for his friend Mao Yingchu.
Highlights
The main highlight is Lush Mountains in Misty Gleam by Zhang Daqian (1899-1983), which was created in 1967 when the artist reached the pinnacle of his splashed-ink-and-colour style. Executed on a large gold paper measuring nearly 130 centimetres, it combines aspects of an abstract approach with traditional ink painting techniques to depict a verdant, steep mountainside. With ink as his starring muse, Zhang masterfully splashes bold hues onto the paper, flowing freely with only a touch of guidance from the brush, then adding a thick layer of mineral pigment such as malachite green to create a crystal-like surface. Glossy and bright like a gem, the vibrant, organic landscape on gleaming paper depicts a magnificent and breath-taking scene. The artwork is a gift dedicated to a close friend of the artist.
Also on offer are works owned by leading Chinese painter, teacher and collector Wu Hufan. The Mei Jing Studio Collection is home to books, paintings, calligraphy and stone rubbings of historical value. Wu was well respected within the Shanghai art community, especially for his exquisite eye for art and his masterful brush technique. Works on offer from the collection includes paintings by Wu's students and friends such as Yu Zicai's Sunrise at Alishan; Zhang Daqian's Grandeur of Lotus Pond, a gift Zhang dedicated to Wu on his 70th birthday, and Ye Gongchuo's Calligraphy Couplet in Xingshu, also a gift. The collection also includes several of Wu's own works, among them Red Foliage in Green Mountains, painted in the peak of Wu's career. Taken together, the collection represents works that are not only of great artistic value, but also a testament to the friendship and respect Wu gained in the art circle.
Peers with deep request for each other, Zhang Daqian and Wu Hufan often dedicated paintings to one another, including personal and poetic inscriptions. Zhang created Grandeur of Lotus Pond in 1963 while he was in Brazil, and dedicated it to Wu on his 70th birthday. In celebration of that milestone birthday, Zhang used a paper measuring more than 140 centimetres and employed his most proficient freehand technique to portray a lush lotus pond filled with the gently swaying plants. Bold, gestural brushstrokes cast generously in ink create a vivid, watery effect in this magnificent work.
From the Paintings and Calligraphy of Early 20th Century Beijing Artists section, paintings and calligraphy by a group of early 20th-century Beijing artists, who either came from the imperial Manchu clan or were literati and officials from the late Qing Dynasty are featured. Works on offer cover a wide range of subject matters including landscapes, portraits, horses as well as fan leafs.
Founded by a wealthy Guangzhou-based merchant in the early 20th century, the Mo Boji Family Collection is today universally recognised as the largest in Guangdong Province. An avid student of Chinese classical studies, Mo Boji (1878  1958) is the 28th generation in a long line of collectors, who moved to Macau in the early 1940s with his son. There, he continued building his collection, portions of which have appeared at auction with Sotheby's on three occasions. This latest offering from the collection consists of 14 pieces of paintings and calligraphy, including a landscape painting by Huang Binhong, as well as works by connoisseurs, literati and epigraphic artists from the Qing Dynasty.
A highlight from the Mo Boji family collection, Huang Binhong's Studio Amid Verdant Mountains is one of three landscape paintings commissioned by Mo Boji in 1946 depicting the rural studio belonging to the collector and his son. All three works were kept in the Mo Boji Collection for half a century, and were only made public after his passing. Studio Amid Verdant Mountains is the final piece of the three to be sold at auction. It is notable for its calm lines, vigorous ink colour, and open composition. Through Huang's perspective, viewers see a pavilion and gardens edged by white walls with a stone table and bench. Two men sit on the second floor, reading and talking perhaps Mo Boji and his son.
Fine Chinese Paintings Spring Sale 2017 public exhibitions will be held from March 31 to April 3 at Hall 5, Hong Kong Convention and Exhibition Centre (New Wing), 1 Expo Drive, Wan Chai, Hong Kong.
The auction will  be held at the same venue on April 4.