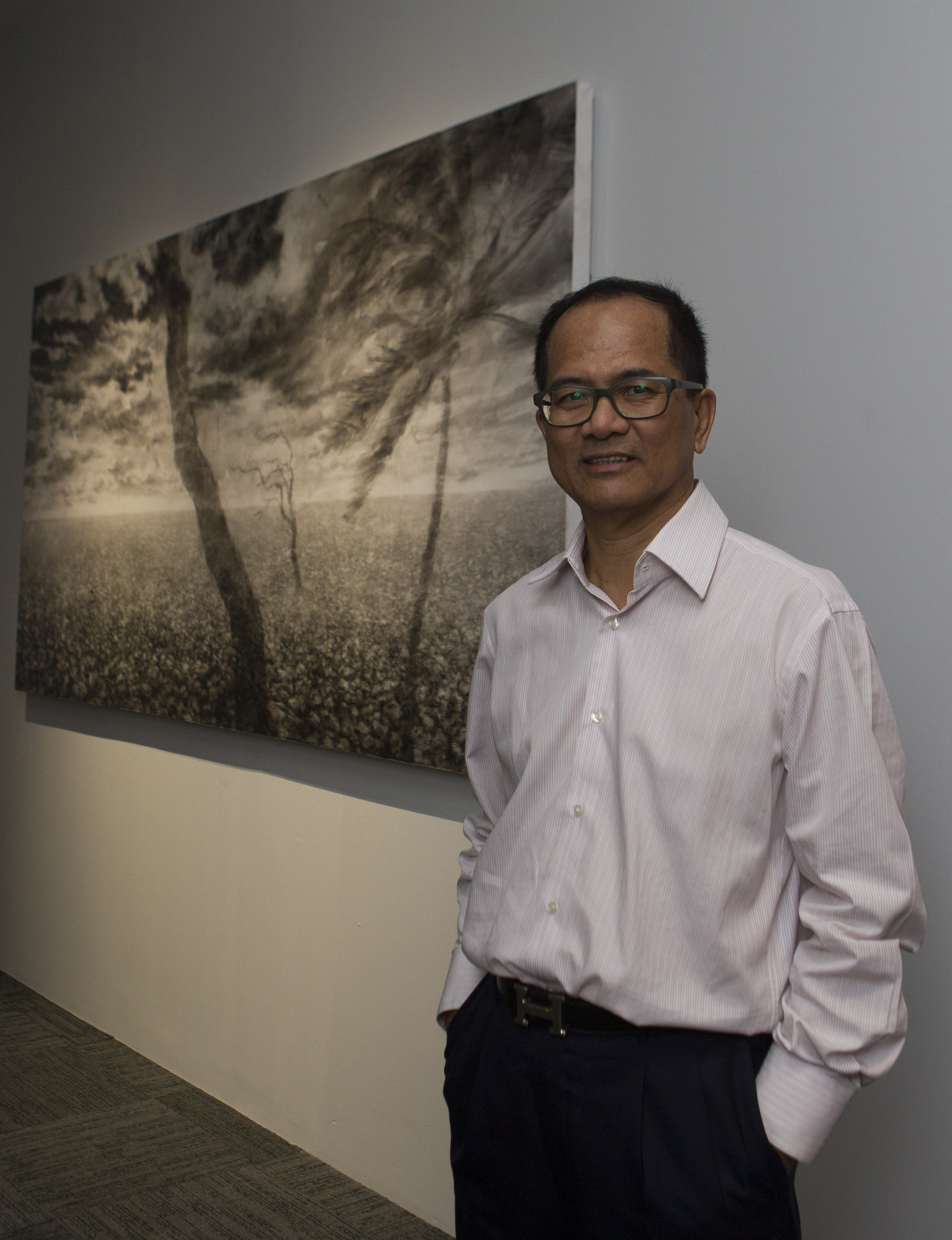 Newly-opened KEN Gallery at Menara KEN TTDI boasts 20,000 sq ft of art space that houses Ken Holdings Bhd chairman's private art collection and will also feature exhibitions of local and foreign artists.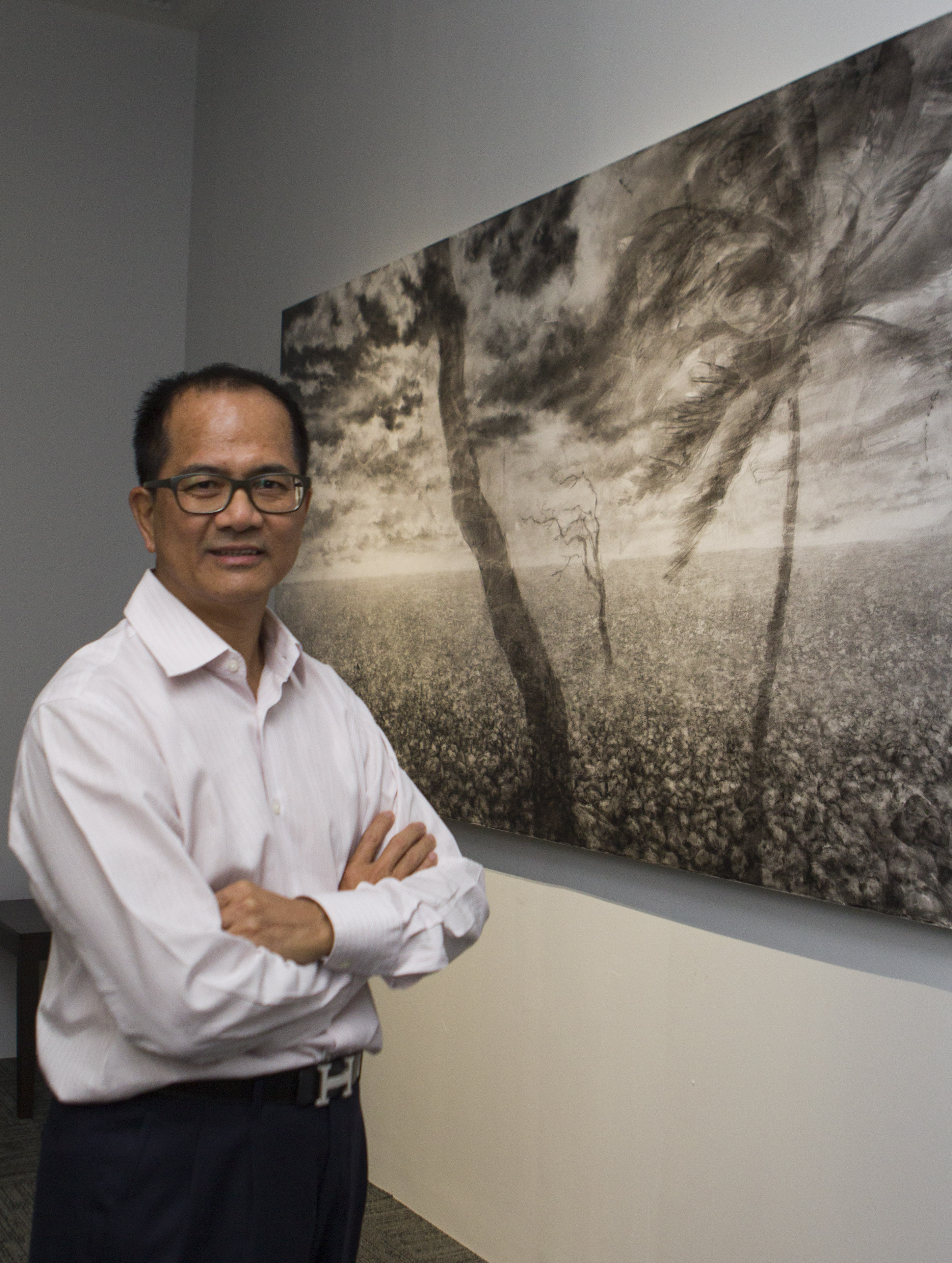 "I have had the idea to open an art space for more than 10 years," says KEN Holdings Bhd chairman Datuk Kenny Tan, 60, at a sneak preview of his spanking new KEN Gallery that opened on July 7.  "I have been collecting art for a very long time," says Tan, as he sat upright at the edge of a plump, leather sofa at his penthouse office.
He recalls that his early artwork acquisitions began in the 1980s. Besides collecting Chinese ink paintings and ceramics, Tan is also an avid supporter of Malaysian contemporary art including the works of Ahmad Zakii Anwar, Ahmad Shukri Mohamed, Chong Siew Ying, Eston Tan and Gan Chin Lee.
"The first time I saw Ahmad Zakii's painting was at an art dealer's house in Damansara. And I have never forgotten that painting until today. That was in 1995. It was a painting of two figures in front and back (positions)," says Tan who has modelled for the artist in a painting executed by Zakii two decades ago.
Today, Tan has amassed over 200 artworks by various artists. "It is not about the quantity but the quality of the works, which is why collectors should only buy the best," points out Tan, who has had a long relationship with international auction house experts dating back to the 1990s.
And he can recall auction room battles for works by Fu Baoshi and other Chinese masters plus a fight or two for prized Chinese porcelain, such as a "Chicken Cup" that got away. But major works by Ding Ying Yong and Bo Yuan, among other ink masters, are now in his collection.
"My aim is to share my personal collection with the public through a rotation of displays at KEN Gallery. It is a small contribution to the community," adds Tan, who also makes it a point to support and collect local Chinese ink works by Chung Chen San, Cheah Thien Soong , Huang Yao, Datuk Chuk Mor and others.
Housed at Menara KEN TTDI in Taman Tun Dr Ismail in Kuala Lumpur, the gallery space spans about 20,000sq ft in total and is open to the public. Incidentally, the building has a total of 350,000 sq ft of net lettable space. The art space layout comprises a main gallery and three other halls which can be reconfigured with movable wall partitions. It even has a conservation room to restore and repair artworks.
Tan, a prominent property developer and equally passionate art collector, aims to offer his pet project to allow people who own significant artworks but without the space to display them, to hang or install their works at his gallery.
Housed on the mezzanine level of the 13-storey Menara KEN TTDI, the main gallery showcases Tan's private art collection, which includes modern and contemporary works by distinguished Malaysian artists as well as Chinese calligraphy, paintings and ceramics. Besides Zhongnanhai (Central and Southern Sea) ceramics, there are also Ming and Qing period porcelain exhibited at the Oriental Pavilion, which is laid out as a long corridor of built-in display cabinets that face a panoramic view of the neighbourhood. It even has a private Chinese tea room.
The meticulously-designed gallery space is equipped with sensor lighting and temperature control to keep the artworks in optimum conditions.
For the inaugural exhibitions, Hall 1 features a solo exhibition by Chinese artist Duxi Chen in collaboration with William Fine Art Taipei. Hall 2 showcases acrylic works by Malaysian artist Teh Yew Kiang. Artworks from both solo exhibitions are available for sale.
Kenny Tan Collection
Among the 100-odd artworks selected for display at the main gallery are paintings by Malaysian artists, namely Latiff Mohidin, Datuk Syed Ahmad Jamal, Datuk Ibrahim Hussein, Yong Mun Sen, Patrick Ng Kah Onn, Dzulkifli Buyong, Chia Yu Chian, Khoo Sui Hoe, Yeoh Jin Leng,  Khalil Ibrahim, Datuk Sharifah Fatimah, Juhari Said, and more.
Curated by Syed Nabil Syed Nahar of NN Gallery, the inaugural exhibition of the Kenny Tan Collection promises to "provide an insight of who we are as a society, of the people and places, our customs and traditions, our rituals, way of life as well as our environment as expressed in various medium such as oil, acrylic, watercolour, mixed media, pastels, etching, charcoal, ink paintings and batik", which aptly aligns with KEN Gallery's theme: "Space that Tells Stories".
Art conservation
"Collecting good artworks is not easy, maintaining the artworks is also difficult, which is why there is a dedicated space for art conservation here," says Tan, who believes in the importance of initiating an art conservation programme through KEN Foundation, which offers scholarship programmes to underprivileged students in selected courses. The foundation was established in 1995 to provide financial assistance to undergraduate students.
"I'm thinking of including art conservation as a course in our scholarship programme for those who really like this direction. Besides becoming an artist, they can further their studies in art conservation — a university will enrol them and a professor will train them. They will then have an opportunity to intern here. That way, there will be more art conservators," explains Tan, who aims to encourage the development of such professionals in Malaysia.
The KEN Conservation Centre at KEN Gallery is led by Prof Lin Huan Shen from the Department of Cultural Heritage Conservation at the National Yunlin University of Science and Technology, Douliu City, Yunlin County, Taiwan. The centre provides, "consultation and specialises in the conservation of works on paper, paintings, sculptures, decorative objects and artifacts".
The Kenny Tan Collection at KEN Gallery is ongoing while the Duxi Chen and Teh Yew Kiang solo shows will end on July 30.