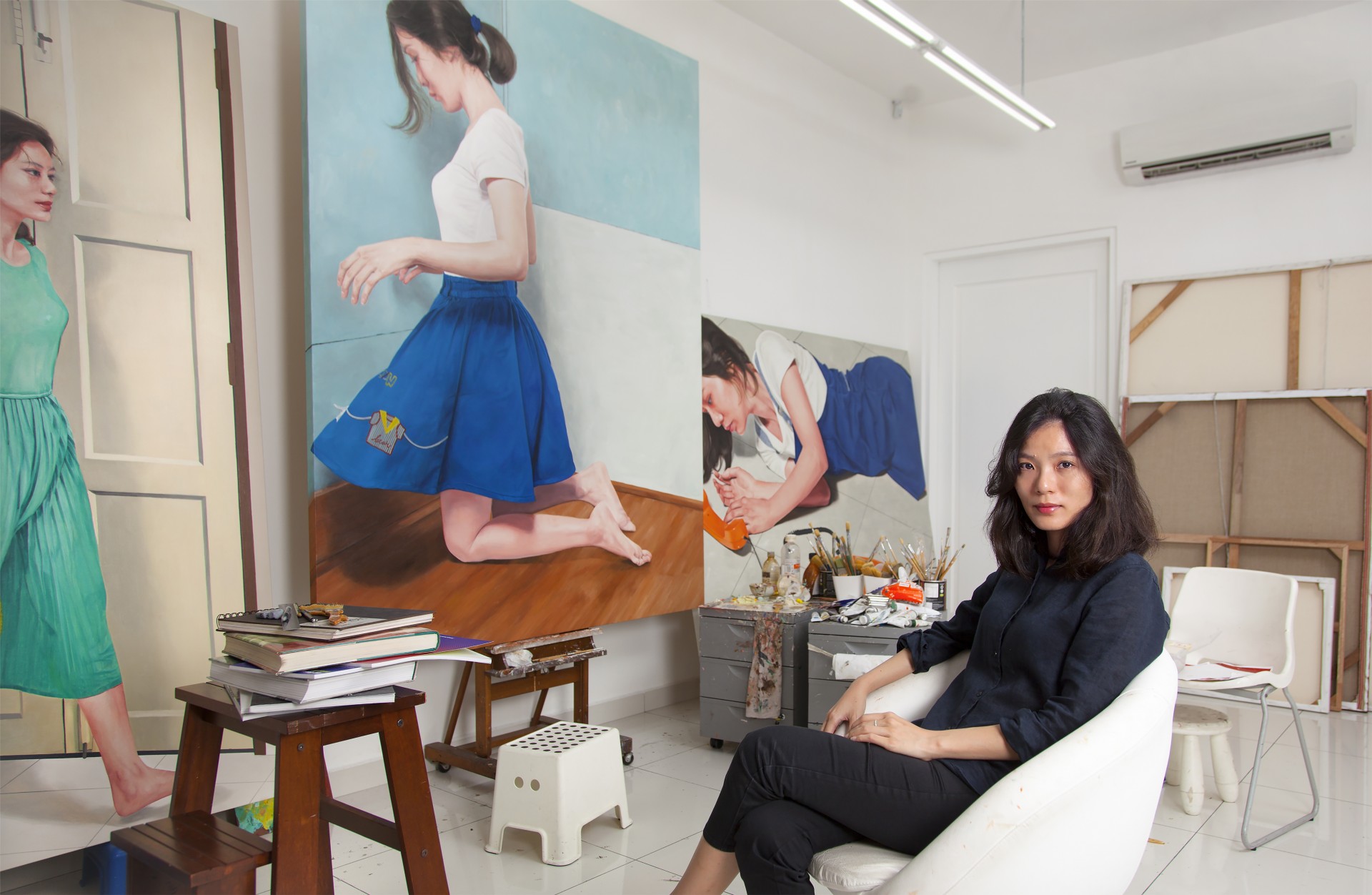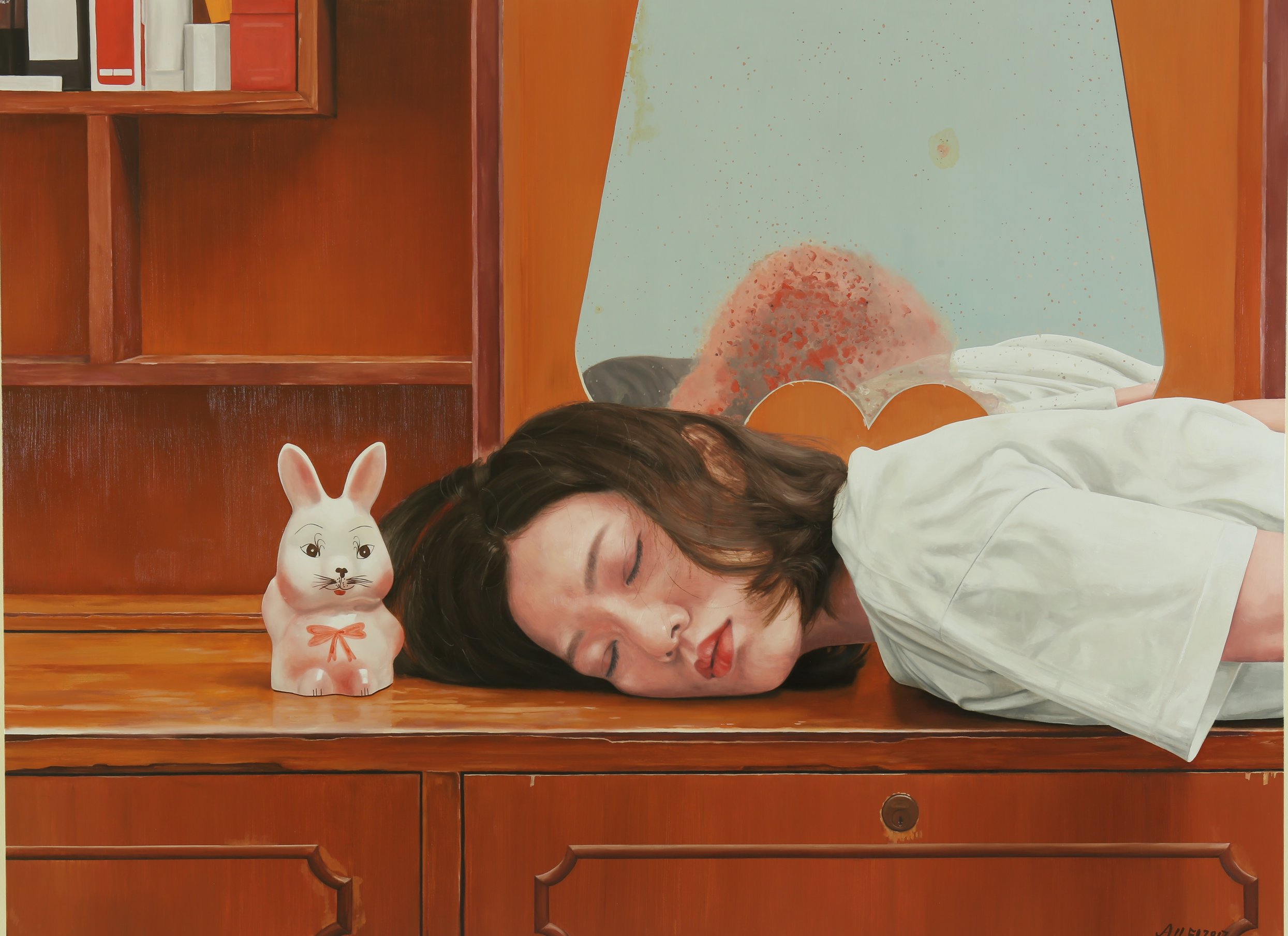 Rabbit Money Box, 2017, oil on canvas, 170cm x 230cm
Read Sarah Vogeler's article on the show here.
Listen to Chong Ai Lei's interview with BFM producer Lim Soon Heng here.
Local contemporary artist Chong Ai Lei is on the cusp of greater success with her ever growing base of collectors who appreciate her meticulous portraits of a pensive young girl. But in her latest solo show of eight oil paintings, she appears more confident and sure in herself, tackling much larger compositions that span 2.3m by 1.7m.
Hailing from Segamat, Johor, Chong has three sisters and is the youngest — as well as the only artist — in her family. They are supportive of her career choice.
She graduated from Dasein Academy of Art, Malaysia in 2005 with a Diploma in Fine Art, and has been a full-time artist since 2010.
Her latest solo exhibition and her first in Malaysia, titled When I See You Again by Chong Ai Lei, will be held at The Edge Galerie from Jan 11-20. The selling show comprises eight figurative works that reflect the artist's childhood memories. The dimensions of the works are either 230cm by 170cm or 170cm by 230cm.
Chong points to an incident in her early childhood that led to the "emergence" of her artistic talent. "I think I was about four or five and I remember taking a blade and scratching the shape of a house on the door of my father's car."
Her time in Dasein, meanwhile, helped hone her skills.
"In Dasein, there were painting classes where we would learn how to use oil paint. And I am really thankful for that. Prior to my time there, I knew nothing about oil painting but now the majority of my paintings are done in that medium."
Post-graduation, Chong dabbled in graphic design as a freelancer while taking up a part-time job as a gallery assistant.  "In a week, I would dedicate four days to designing and part-timing. Then the other three days, I would spend making artworks," recalls the artist.
She says if she had not become an artist, she would have probably worked as a designer.
"Fine art is not just a singular form," says Chong, in explaining her passion for painting, "Fine art encompasses everything from design to architecture and much more."
As a professional artist, "there are plenty of challenges, too many to list, but you have to be focused and have a clear mind [and ensure that] very little stands in your way", she stresses.
Working in the world of contemporary art dominated by English-speaking gallerists and practitioners, one would be forgiven to think Chinese-educated Chong would have trouble in expressing herself. But her steadfastness in making her art known has led to her becoming more comfortable in communicating in English.
Lone girl
Over the years, Chong has participated in numerous group shows and has held three solo exhibitions overseas. In her past works, a recurring theme was a girl or girls in intimate scenes — lying on a bed, the floor or the carpet, or jumping into the air with hair flying.
The paintings seem to have a voyeuristic nature.
"When I started painting, I thought about the comfort I experience when I am by myself or at home. The girl doesn't necessarily always represent me as a person or an artist. I am not trying to portray a certain someone but rather certain situations," she explains.
It is fitting that When I See You Again is Chong's first solo show in Malaysia, as she returns and explores the house she had grown up in.
Sentimentality appears to radiate from the works as she begins to describe the objects and recall the memories that come hand in hand. For example, the painting, Girl Jumping on a Red Sofa, reflects the happy times that Chong spent with her sisters.
The background of each painting depicts a different location in the artist's childhood home. Furniture and personal belongings that her parents have kept over the years are sometimes set against the figure of a lone girl.
Girl With Blue Skirt (230cm x 170cm) sees the artist kneeling as her head points to the ground. Collared shirts, embroidered on the edges of the skirt, are linked together by yellow lines – perhaps, symbolising the bond between parent and child, as it was given to the artist by her mother.
Chong is dressed in the same blue skirt in Standing Behind A Curtain. The composition is minimal - the floor is one of timber, while the walls she stands against are painted in suqares of pink and a greyish blue. As stated in the title, the figure is partially hidden behind a curtain made by the artist's mother. The curtain had been a favoured hiding spot of Chong's, as she would cover herself in the midst of playing hide-and-seek with her siblings. In a way, the work can be viewed as homage to the game.
Harking back to her school days is Rabbit Money Box, where the girl in the painting is seen resting her cheek on a dressing table. "My sisters and I shared a room. Each morning before heading to school, we would dress ourselves in front of a mirror on the table". Beside the girl's head, a rabbit-shaped money box is placed. The rabbit has a cartoonish look to it, asymmetrical, the left side of its face lifted slightly higher than the right. "It was the first present my father gave me, it was bought after he received an award for outstanding service at work," recalls Chong.
Another painting titled, Jackfruit, sees the artist donning a pleated green dress and walking past the front door. In her right hand, she grips a jackfruit  by the stem. "There was a fruit plantation located not too far from our home. My family and I were spoilt for choice, but there were more nangka (jackfruit) trees than any other," quips the artist. The dress is yet another object that relates to Chong's parents, with her mother having worn it at a young age.
The expressions of the subject are often solemn or moody; perhaps the artist is yearning for the past, a time where she had not a care in the world. Or perhaps, she is emotionally overwhelmed as the memories of being in her childhood home again begin to resurface.
The paintings also seem to exude an extreme sense of longing. In some, the girl gazes into the distance, her eyes not fixed on anything in particular. "I am longing for traces of the past," Chong confirms. Though, it appers that the artist only yearns for certain parts of her past, as she says "my memories of home are joyous, but they do not come without sorrow."
"Over the years, the house had seen floods, sometimes reaching a height of two feet. Once, my father lost his footing, which lead to him falling and injuring himself. To this day, the marks left by the flood can still be seen on the walls. My father is a contractor. The house was designed and built by him. In recent times, he has thought of tearing it down with the intention of building a new one."
Having spent a big part of her childhood through to her adolescent years in the house, Chong truly cherishes it. "The thought of it being gone, proved to be a catalyst in creating this series."
Local and international
In recent years, Chong has explored the art scene overseas.
"From my experience visiting art fairs like Art Basel Hong Kong, Art Stage Singapore and Art Stage Jakarta; the international galleries tend to promote younger artists who are around my age, which I feel is great," says the artist.
Chong also speaks positively about the local art scene. "It feels as though we are still a few steps behind, but we are definitely catching up. In the past five years, I have seen more art galleries taking part in international art fairs, and providing exposure to local talent overseas."
She says "my journey as an artist has been smooth sailing thus far." Compared with the previous generations of artists, she considers herself more fortunate. "Galleries I collaborate with and seniors alike are always willing to help, there are also galleries who have extended invitations [to me] to exhibit with them, providing me with a platform to show my work."
In her seven years as an artist, Chong has already chalked up considerable milestones in her career. Her first three solo exhibitions were all held overseas in Yogyakarta (2013), Jakarta (2016) and Hong Kong (2017) respectively.
She was one of the finalists of the Malaysian Emerging Artist Award in 2009, and went on to become the winner in 2011. She has also participated in both Art Stage Singapore (2015) and Art Stage Jakarta (2016) and has taken part in the Start Art Fair in the UK, (2014) as well as Art Busan in South Korea and Art Taipei in Taiwan (both in 2016). Her work was sold in an international auction in Hong Kong recently.
Supported by Matrix Concepts, When I See You Again by Chong Ai Lei runs from Jan 11-20 at The Edge Galerie in Mont' Kiara, Kuala Lumpur. For details visit